Yahoo Tries to Kill del.icio.us
I bumped into Yahoo's new My Web 2.0 service today. It's basically their del.icio.us-like social tagging and bookmarking service. Their new UI looks… well, alright, but it's clear that they're miles ahead of del.icio.us in terms of bringing this idea into the mainstream.
One feature of the Yahoo service is that it allows you to import your bookmarks from del.icio.us. I tried it and it seems to work just fine. It's not, after all, that hard to do now that we don't have to screenscrape anymore!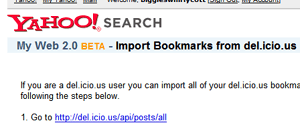 Of course, you're only going to think that this is a feature if you're not the people who run del.icio.us….