StyleFeeder: a retrospective
I haven't said much publicly about the acquisition of StyleFeeder by Time Inc. for various reasons, but perhaps it's worth spending a few moments on this topic.  First, vital statistics:
$4M invested from Schooner Capital and Highland Capital Partners along with a small army of supportive angels
Acquisition price: undisclosed
Team size: 5 tech, 1 bizdev, 1 marketing, half-time office manager
Cash flow positive for around a year with money still left in the bank at the time the deal closed
Started: January 2005 Publicly launched: October 16th, 2005 Funded: May 2006 Acquired: January 15th, 2010
StyleFeeder roughly falls into a category I call "next generation e-commerce," a rather broad umbrella that describes a reinvention of the classic e-commerce model in which companies sell stuff online directly to consumers.  From the consumer perspective, companies in this space offer Web-wide product search/discovery and organization through social and algorithmic techniques.  To the retailer, this represents a partial shift of their merchandising role to a third party - not per se desirable, but when viewed through another lens looks like a highly targeted customer acquisition channel.  A techie friend saw the first implementation of StyleFeeder and declared it "del.icio.us for clothes," which wasn't an altogether horrible starting point for those familiar with the social bookmarking site.
Social sharing of product links was certainly a core part of our initial product offering, but once we started to grow, the problem of finding cool clothes on the web started to appear locally as it became darn near impossible to find anything useful on StyleFeeder.  Fortunately, I anticipated this in advance and invested heavily in building our own highly fancy recommendation engine.  After a few false starts, we ended up with something that worked well for our needs and could handle our volume. Our investment in innovation and technology stands out still as one of the key differentiators of StyleFeeder.  While our competitors invested in other areas, leading edge technology was one zone where we really stood out.  You have to do what you were good at… and we were good at building product.  So we did that.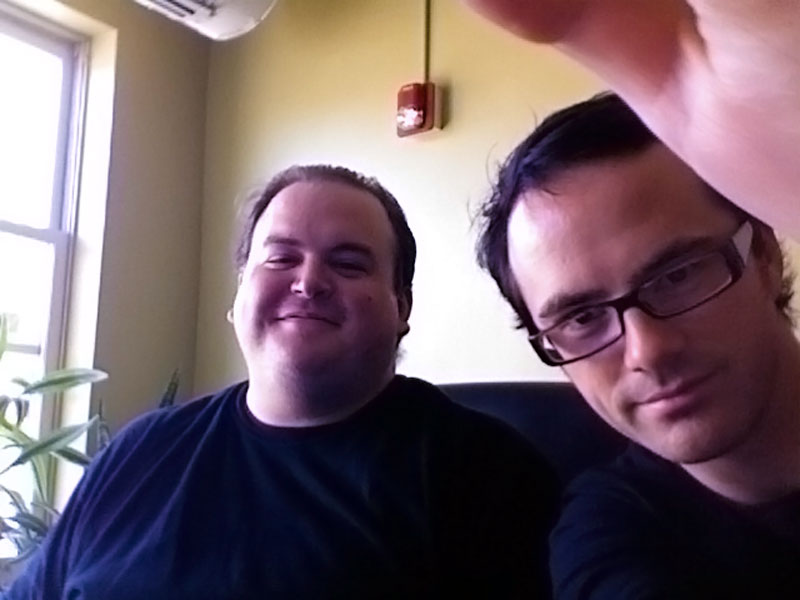 Eric Savage and me at the first StyleFeeder office in Harvard Square, July 2006
Competitors
At various points in our history, I considered us competitive with Stylehive, ThisNext, Kaboodle, TheFind, Like.com, Pronto and Shopstyle.  There were a few other companies that I kept my eye on, but I didn't consider them serious threats.
Kaboodle sold to Hearst in August 2007, almost exactly four years ago.  I remember the moment that I found out that they had sold - I was at the office with some folks at 4am putting the finishing touches on a big product launch when the news broke on TechCrunch, including disclosure that the price was around $30M (although Crunchbase indicates it was $18M, which is closer to what I heard through the grapevine).  Since Manish Chandra's LinkedIn profile indicates he is still at Hearst, I'm going to speculate that they got a four year lockup period (we were only locked up for one year, which I thought was very civilized).  I tried long and hard to figure out Kaboodle.  I mean no disrespect to anybody who ever worked at that company, but I never thought the product was original.  However, it was clear that they were stomping our asses at customer acquisition and traffic generation.  I think it was through email marketing, but I never did get clarity on that and would love to know.  Kaboodle was a success - hats off to them.
ThisNext popped on the radar in August 2006 and had tremendous launch coverage along with a technology team that seemed like a credible threat.  However, it soon became clear that their PR skills were a few steps ahead of their ability to execute.  Slowly, their founders left.  I monitored their employees' Flickr photostreams closely to keep track of headcount and burn rate and estimated they had about ~26 people on their team.  Years later, one of their executives sat across from me in a restaurant in Cambridge and asked if we were interested in acquiring the company; we declined.  They later merged with Stylehive and are now reinventing themselves under new management.  Who knows, they may finally strike gold.  I wish them the best as they move forward.
Pronto is a unique bird.  They're owned by IAC and had a decent product offering put together by a very large tech team that they acquired from Semantic Discovery.  They also had an unusual incentive structure in that their management team had a pre-negotiated exit from IAC, which seemed potentially thorny to me, though the details are not something I know about.  A few years ago, their business was basically SEM arbitrage, which is alright if you can make it work for long periods of time at scale.
TheFind has $26M in and, from what I can tell, is doing well.  They seem like a quiet bunch that maintains a heads-down profile.
Like.com had $47M at the time they sold to Google last year for $100M; from what I understand, this was principally an acquisition of IP and talent. In our user testing research, neither Like.com nor TheFind fared well with our target audience (female, 18-35), which, I suppose, is not a surprise.  Like.com has some advanced image recognition technology, but that seemed more of a feature than the basis for a website to me.  I can attest that not one single person in our user research ever noticed or tried the feature that Like.com had spent so much time and effort in building (Postscript: after being acquired by Google, Like.com launched Boutiques.com, a smorgasbord of beta-quality features.  Based on Compete data, Google is currently starving the site.)
However, the real standout in our competitors was Shopstyle, part of the Sugar Inc. empire ($46M invested).  It seemed to me that Shopstyle was an opportunistic acquisition for Sugar, but they have built a formidable SEO fortress around it, driving traffic to important keywords.  Fashionistas adore the site.  After researching and deconstructing their site, we decided that two qualities drive their product success: the black header color indicates "high end" and the visual product density per page is optimally tuned.  All other variants of praise for Shopstyle fundamentally boil down to those two characteristics (including the distinctive horizontal scrolling).  They did a wonderful job in putting together both the product and growth strategy and deserve a lot of credit for it.
If founders or CEOs from any of these companies can share more from their experiences in the comments, I would be eager exchange perspectives.
Partnerships
We bumped into Shopstyle a few times during our partnership building efforts, as they had a compelling white-label offering for media companies.  At one point, we were outsourcing our ad sales to Hachette Filipacchi Media (ELLE.com, if you're not aware of HFM) and I managed to scuttle their plans to use Shopstyle in favor of our own shopping solution for publishers.  That immediately boosted our credibility.  Otherwise, partnership deals tended to be cumbersome and distracting.
Capital Efficiency Rules
If there is a high order bit here, it's that StyleFeeder did more with less than anybody else in our space. How did we compete with companies that had 2-10x our resources? Hard work, focus, culture and excellent business relationships. If you know me personally, you will know that I am not a cheapskate. It's just that we didn't blow our cash on parties, fancy office space, speculative marketing adventures, or "passengers".
I had a "no passengers" hiring rule which basically meant that everyone has to be both an individual contributor, able to do their job without support and capable of handling a team (or contractors, or vendors, etc.). We divided our efforts and learned to trust each other to get the job done.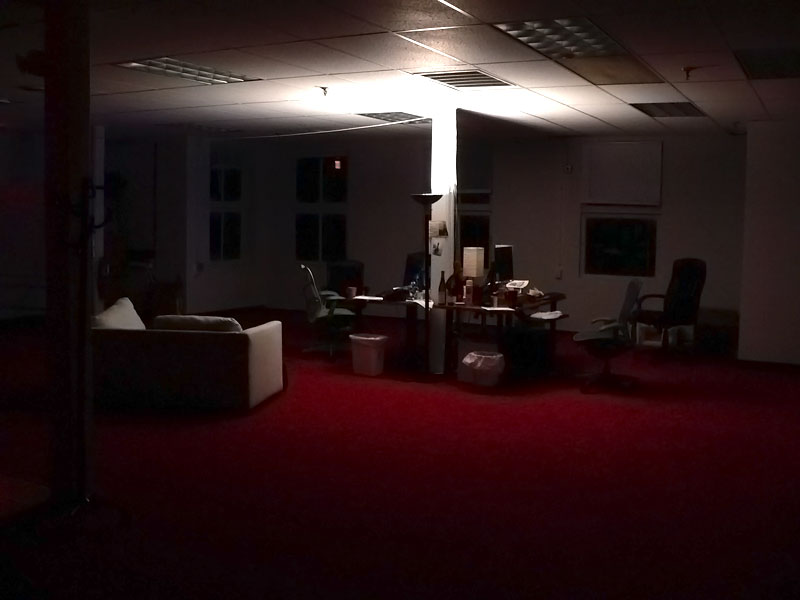 Being a night owl at StyleFeeder's third office. My chair is to the left of the beam.
Making Deals
Shergul ran bizdev and corp dev for us and he was pretty astounding at getting us an audience with C-level executives at any company we wanted to talk to.  We were principally searching for partnerships to help in growing revenues and customer growth (but, hey, a venture funded startup is automatically on a certain kind of trajectory), so as we were able to demonstrate our product, technology, vision and the super StyleFeeder team, sometimes things got a bit more serious.
We received offers from four different companies (three of which are public companies); I won't disclose who these companies are as I intend to honor my NDAs. I learned a lot from this experience: the cost of distraction, the importance of a simple deal structure, what matters to a buyer, how to build leverage and so on.  Turning down a written offer from the CEO of a public company is not a bubbly fun experience, especially when that offer could set you up pretty well in life.  However, it pays to be patient and cold-blooded in analyzing deal terms.  I had to learn that.  It didn't come naturally at first.
By the time that Time Inc. got serious with us, I think I was personally in a better position to know when things were on the right track.  The people we did the deal with at Time Inc. are wonderfully friendly and intelligent, knew what they wanted and moved quickly, a sharp distinction from many large companies.  I think the whole deal took around six months from the first meeting to closing.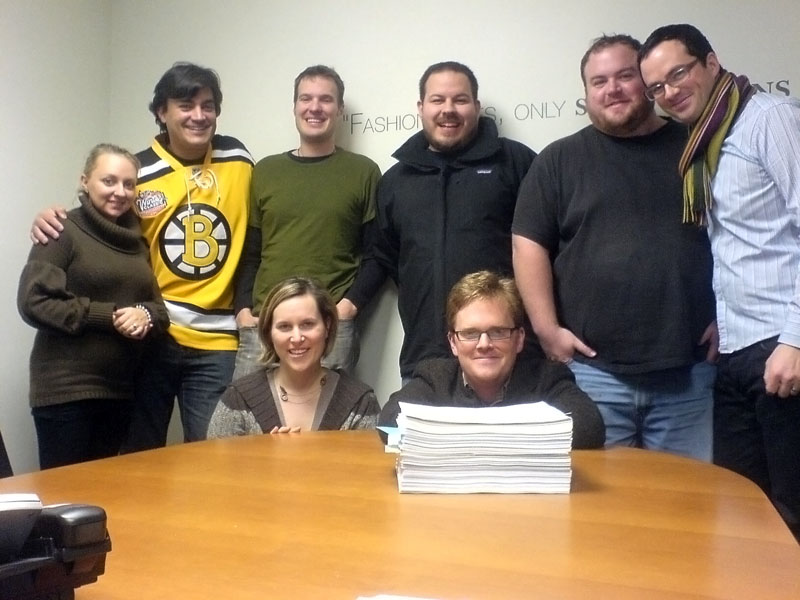 The StyleFeeder team wrapping up some diligence docs: Lana, Shergul, Dina, Alex, Kilby, Ben, Savage and me
The Future
I would be overstating reality to claim that StyleFeeder made a massive impact on the e-commerce space.  We played a part in disrupting the status quo and served as an inspiration for other companies that followed us.  Although I'm no longer working on StyleFeeder, the site is still being run by a highly capable group at Time Inc. that includes some of the original team.  I think that the power of Time Inc.'s brands, especially People and InStyle will accelerate StyleFind, a new site that we launched last winter and which is built on StyleFeeder technology.
I'm also keeping my eye on newcomers like Curisma, Pinterest, Suddenlee and Svpply.  Are there other innovative e-commerce companies I should be aware of?  Please let me know about them in the comments.
For a range of reasons, I'm omitting a lot.  But to everybody on the team, investors, contractors and vendors, I'll say it one last time: thank you.